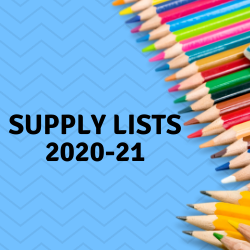 You have 2 options for school supplies:
-Go to your favorite store to buy your supplies
Kindergarten       Grade 1    Grade 2    Grade 3    Grade 4    Grade 5    Grade 6    Grade 7    Grade 8
-Or make shopping easy by using School Start
You can place your order online at

www.schoolstart.ca

.  Visa & MasterCard are accepted. 
Place your order online in June and you will automatically be
entered for a chance to win a $1000 cash draw!
When using e-commerce sites, please ensure your browser is
Internet Explorer 10.0 or later, Firefox or Chrome
Late orders will be accepted online until October 1, 2020 (a $5 late fee will be applied after
August 1, 2020).
The supplies will be packaged and delivered directly to your house. If you have a P.O. box please use your 911 address. Because the kit (s) are delivered to your home, you will have the ability to:
Pre-label your child's supplies

Add supplies to your order for your child in another school
If you have any questions, please contact School Start:
Ph: 1-800-580-1868  Fax: 1-800-580-1890