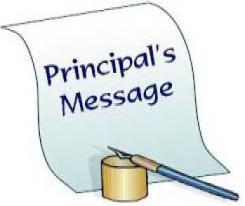 Ecole Wilfrid Walker Wildcats and families,
Thank you so much for such a wonderful and challenging year! I would never have thought that this year would have gone this way had you asked me in September! We have survived a once-in-a-lifetime scenario and you have done it with such courage and grace. Thank you all for your patience with us and for all of the words of wisdom and kindness that you shared along the way.
I would like to thank all of the teachers and support staff for all of their hard work! We have learned, planned and re-planned and then learned and discovered some more. This year has taught us plenty and we will take away the positives with the negatives and be better because of it all.
Please know that as a School, we are doing everything that we can to prepare the school facility for a safe return. If we require anything specific of you or if anything will change from our normal, we will do our best to let you know. If you need information or to access supply lists, please check out the school website as we will be making changes regularly. 
I would like to wish farewell to all of the teachers that are leaving Ecole Wilfrid Walker. I wish them well and hope that you will as well.
The teachers that will not be returning to Wilfrid Walker in September include:
    Mme Baldo
    Ms Beuker
    Mme Davis
    Mr Day
    Mme Meister
    Mme Patterson
Please welcome the new teachers to the building in September:
Mme Blair
Mme Dzubinski
Mme Fick
Mme Jensen
  M Luu
     M Saretsky
Have a wonderful Summer and we look forward to seeing you in September! Amusez-vous bien pendant les vacances!
Kelsey Panko
Directrice/Principal